Creating a new Microsoft Online groups via Atria
Objectives

This aims to provide guidance on MSOL Group Management in Atria

Applies to:
Atria Version 12.13.15 or Newer.


Steps in Creating a new Microsoft 365 Group via Atria
Go to Customer Main Menu in the left pane > Click Customers > Search for the Customer.




Click the Customer > and Click the Services menu in the left pane as shown below.

Expand Microsoft Online > Group Management




Click the + Add button and select which type of Group from the provided list. These also contain a description of what the group does.


Microsoft 365 - Allows teams to collaborate by giving them a group email and a shared workspace for conversations, files, and calendars. In Outlook, these are called Groups.

Distribution List - Creates an email address for a group of people

Security Group - Controls access to OneDrive and SharePoint and can be used for Mobile Device Management for Microsoft 365

Mail Enabled Security Group - Sends messages to all members of the group and gives access to resources like OneDrive, SharePoint and admin roles

For each of these groups, they have different configuration options and requirements.
The overall user interface is similar, where you fill out the required properties and then add Owners and Members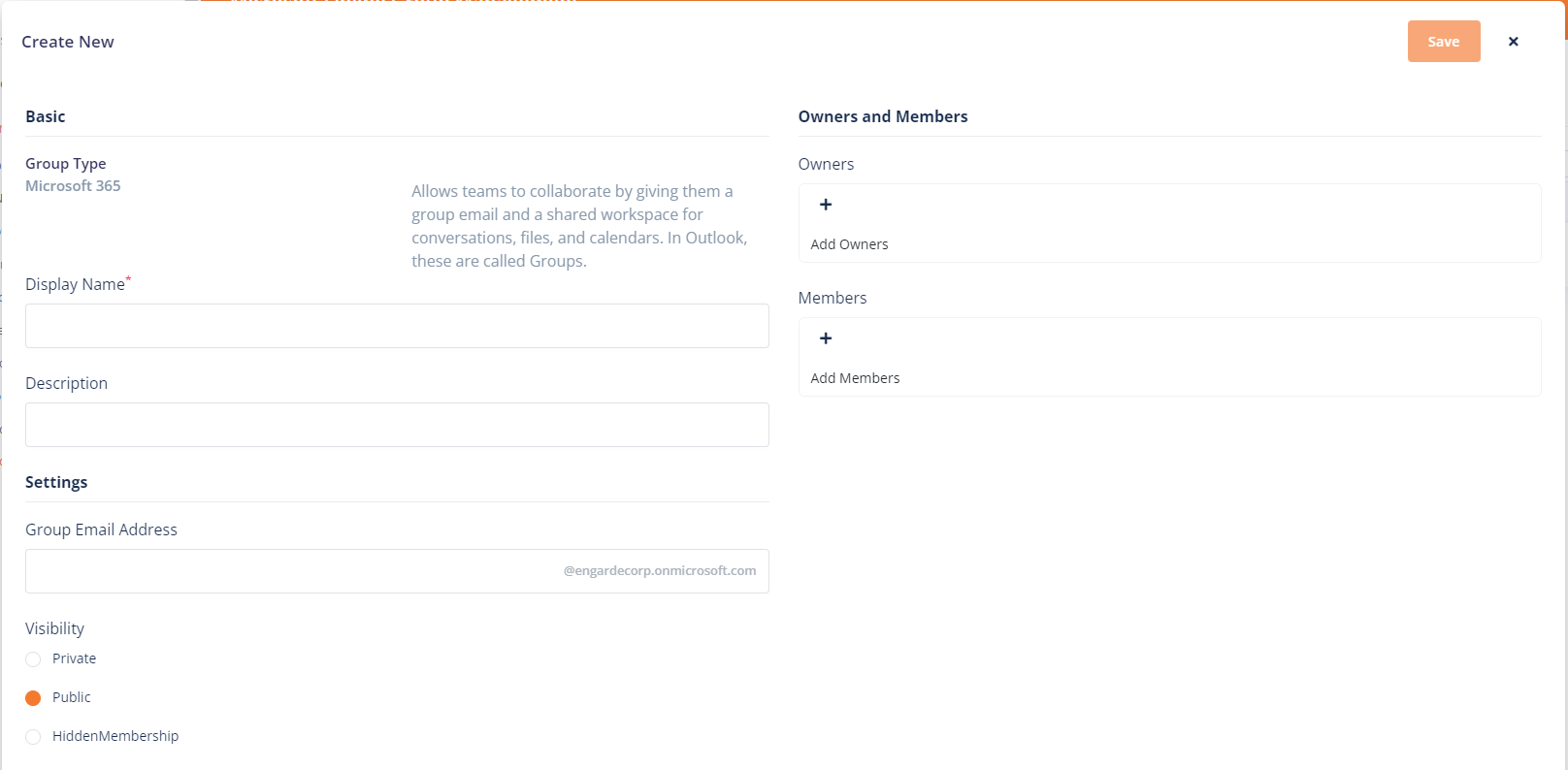 Then, select "Save".

This will then create and add the relevant properties to the group directly in Microsoft 365.
Related Articles

Microsoft Online Group Management in Atria

Introduction to Group Management Groups are a fundamental feature used to control access and make information sharing easier. In the Microsoft 365 platform, there are four core group types, all of which have a core component in Azure AD. Many ...

Microsoft Online Service Planning

Overview The Microsoft Online Service for Atria allows Customers and the service desk to manage tenants, licenses, users and features of Office 365 – with no access to the 365 admin portal. It reduces your risk, while still being able to effectively ...

Connecting Atria to Microsoft Partner Center

Objective This article shows you how to set up a secure connection to Microsoft Partner Center which will be used for Atria to automate processes in Partner Center. The process itself should take less than 5 minutes to complete. Note: Before Atria ...

Microsoft Online - How to configure your Customer plan

Overview The Microsoft Online service within Atria has been designed from the Ground Up with Customization and flexibility in mind. This means, that it can likely cater with most configuration scenarios you may come across with Microsoft Online ...

Creating a new Microsoft Online Contact in Atria

OBJECTIVE This aims to provide guidance on how to create Microsoft Online Contacts in Atria. APPLIES TO Atria Version 12.13+ Steps in Creating a new Microsoft Online Contact Go to Customer Main Menu in the left pane > Click Customers > Search for the ...